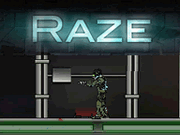 Battle against Aliens, Robots and Zombies in this futuristic fight for the survival of earth. Raze was released on March 5th 2010 by Armor Games.
Graphics are superb, especially when set to the highest settings. If you have a reletively fast computer, the framerate should be running at a good 25-30 fps under high settings... online. Overall, extremely good graphics, and very solid (although it could've been a bit faster) framerate (even under the multiplayer).
Implementation
Edit
Not much to say here, everything plays exactly how it should. My only complaint is that because of your slightly limiting view, you might get shot by an enemy who "just so happened" to see you first, so you wont see them, but they will see you.
Was it fun overall?
Edit
Raze is by far the best in it's genre so far. However, the single player lags behind "Unreal Flash", and the idea of a deathmatch game is certainly not very original. Overall though, this game is extremely fun to play, and with up to 9 players online at one time, you'll have a blast slaughtering noobs in Raze.
9.2/10 By Armor Games
4.43/5 By Newgrounds
4.4/5 By Kongregate
94.96/100 By Y8
100/100 By Fresh FreeOnlineGames
83/100 By Game1
9/10 By GamesFreak
Unreal Flash vs Raze
Edit
Although Raze offers multiplayer, Unreal flash 2007 and Raze are very similar, especially with the exceptional AI in Unreal Flash 2007, which compensates for real players.
==